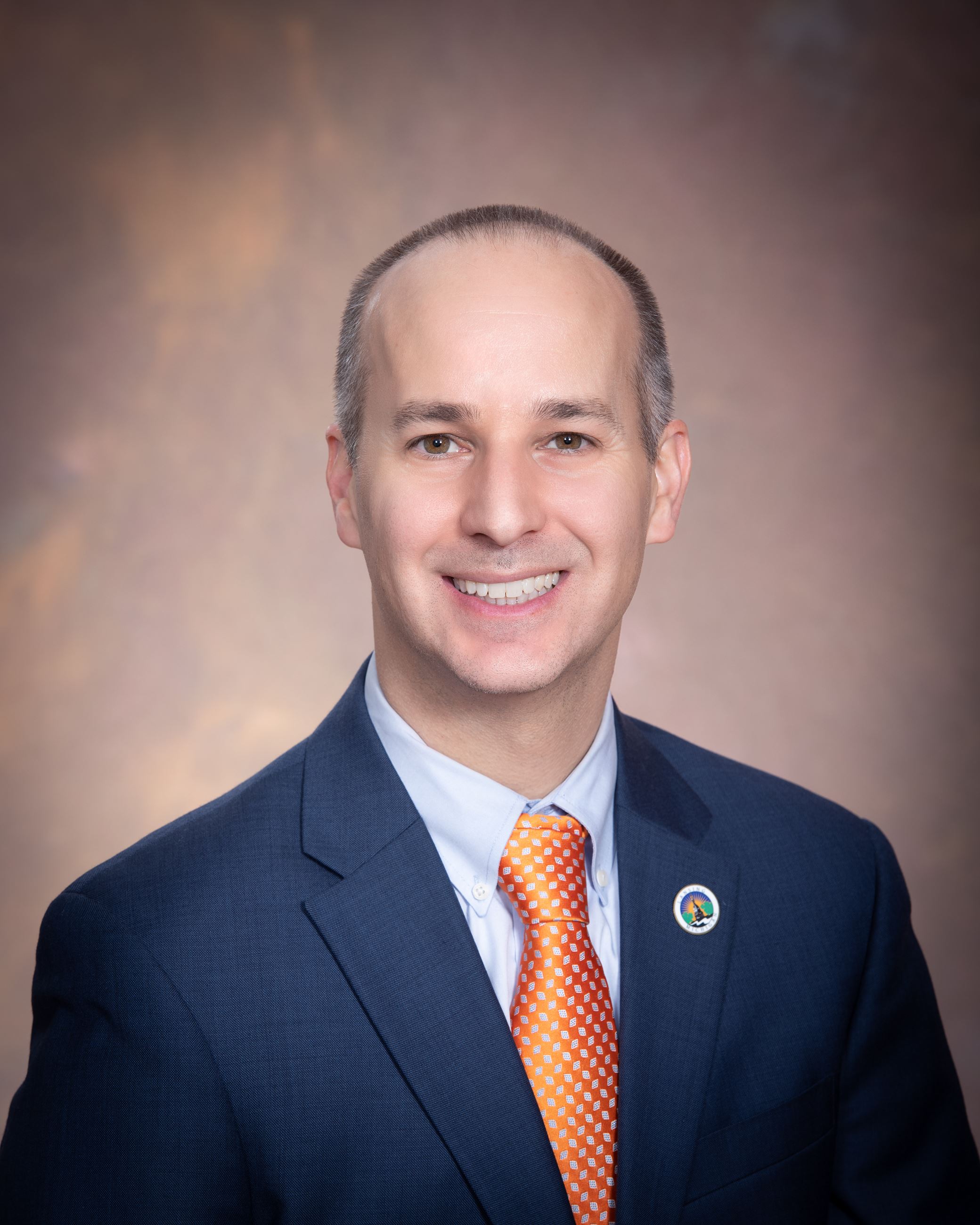 Andy Schor was elected 52nd Mayor of Lansing, Michigan on November 7, 2017, and took office on January 1, 2018.
Upon taking office Mayor Schor immediately began focusing on the priorities of his campaign: Neighborhoods; Economic Development; Infrastructure; and Lansing Schools.
Mayor's Office
Physical Address
124 W Michigan Avenue
9th Floor
Lansing, MI 48933
Phone: 517-483-4141
Mission: 
Mental health continues to be a significant issue in Lansing and across the nation. There are many areas in which we are working in silos, and we need to work together to help those who are mentally ill in our community.  In the mayor's State of the City speech in February, Andy Schor announced the creation of a mental health task force. This group will work creatively together on solutions, including a mental health organization inventory and a communication matrix. In addition, the task force will make recommendations to the mayor on other ways we can address mental health in Lansing.  The mayor looks forward to reviewing the recommendations as we work together on solutions to this critical issue.
Members
| Member | Affiliated Organization |
| --- | --- |
| Dr. Farha Abbasi | Michigan State University |
| Clarke Anderson | AJ Boggs |
| Tammy Banker | Sparrow Health System |
| Abbigail Behmlander | Michigan State University |
| Farhan Bhatti | CareFree Medical Clinic |
| Cordelia Black | Lansing School District |
| Melina Brann | Citizen representative |
| Duane Breijak | Michigan Chapter of the National Association of Social Workers |
| The Honorable Stacia Buchanan | 54A District Court |
| Susan Cancro | Advent House |
| Kim Coleman | City of Lansing |
| Beth Creamer | Sparrow Health System |
| Bryan Crenshaw | Ingham Co Commission |
| Marc Criss | Outreach Center and City Mission |
| Sharon Dade | Capital Area Housing Partnership |
| Timothy L. Davis | Citizen Representative |
| Jane B DiSessa | City of Lansing |
| Judge Shauna Dunnings | 30th Judicial Circuit Court |
| Mary Firdawsi | MSU Psychiatry |
| Mauricio Franco | Queering Medicine Lansing |
| Sara George | Peckham |
| Marita Gilbert | College of Osteopathic Medicine |
| Tammy Hannah | Origami |
| Deb Hart | Trauma-informed Yoga |
| Sydney Hart | Office of Senator Curtis Hertel Jr. Senate District 23 |
| Christie Herrick, LMSW | Sparrow Health System |
| Sen. Curtis Hertel | Office of Senator Curtis Hertel Jr. Senate District 23 |
| Scott Hughes | Ingham County Prosecutor's Office |
| Beverly Hynes | Citizens for Prison Reform |
| Brett Kaschinske | Lansing |
| Kevin M Keeler | NAMI Lansing |
| Margaret Keeler | Lansing National Alliance on Mentally Illness |
| Kirsten Laing | Tri County on aging (TCOA) |
| Sara Lurie | CEI CMH |
| Jed Magen, DO, MS | Dept of Psychiatry, MSU |
| Jessica Martin | City of Lansing |
| Brian McGrain | Lansing |
| Maria Medina | City of East Lansing |
| Carmile Mirza | MMHC |
| Amber Moe | CareFree Medical Clinic |
| Mark Pierce | Disability Network Capital Area |
| Lois Pullano | Citizens For Prison Reform |
| Kirk Ray | McLaren |
| Brad Ropp | McLaren |
| Taylor Scott, DO | McLaren |
| Bob Sheehan | Community Mental Health Association of MI |
| Carol Siemon | Ingham County Prosecuting Attorney |
| Derrell Slaughter | Ingham County Commissioner |
| Kate Snyder | Piper & Gold |
| Chief Ellery Sosebee | City of Lansing |
| Peter Spadafore | Lansing City Council |
| Michele Strasz, MPA | Capital Area United Way |
| Amber Teunis | City of East Lansing |
| Gregg A. Todd | Ingham County |
| Jennifer West | Lansing School District |
Partners
City of Lansing Economic Development and Planning
City of Lansing Human Relations & Community Services
City of Lansing Parks & Recreation
Community Mental Health Association of MI
Community Mental Health Authority of Clinton, Eaton, Ingham Counties
Holy Cross Services--New Hope Community Center
McLaren Greater Lansing Hospital
Michgan State University Department of Psychiatry
---
NAMI Michigan will be the foremost advocate at the state level for persons affected by mental illness, including children with serious emotional disorders, and the leading proponent on consumer and family involvement in care, treatment and recovery.  We will strengthen local affiliates to provide support, education and advocacy in their communities.  NAMI Michigan will link National resources with local affiliate passion and action.  We will influence public policy and coordinate affiliate, family and consumer involvement to influence our public policy at the state level.
We educate. Offered in thousands of communities across the United States through NAMI State Organizations and NAMI Affiliates, our education programs
We advocate. NAMI shapes national public policy for people with mental illness and their families and provides volunteer leaders with the tools, resources and skills necessary to save mental health in all states.
We listen. Our toll-free NAMI HelpLine (800) 950-6264 allows us to respond personally to hundreds of thousands of requests each year, providing free referral, information and support—a much-needed lifeline for many.
We lead. Public awareness events and activities, including Mental Illness Awareness Week and NAMIWalks successfully fight stigma and encourage understanding. NAMI works with reporters on a daily basis to make sure our country understands how important mental health is.
---
Origami Brain Injury Rehabilitation Center
Tammy Hannah is the President and CEO of Origami Brain Injury Rehabilitation Center. She began her career at Origami in 2000 as an occupational therapist and progressed to executive leadership in 2004. She earned a master's degree in Business Administration (MBA) from Michigan State University. Tammy is a dedicated servant leader and human services professional with 20 years of progressive leadership experience in rehabilitation. She strongly values process, accountability, and performance while measuring self-actualization by the successes of others. She serves as the Chairperson on the Board of Directors for the Brain Injury Association of Michigan. Additionally, she serves on the Board of Directors and Executive Committee for the Coalition Protecting Auto No-Fault. She has over a decade of experience as an international surveyor in the area of Medical Rehabilitation for the Commission on Accreditation of Rehabilitation Facilities (CARF). As a lifelong disability advocate, Tammy is passionate and devoted to creating opportunities for individuals with barriers to self-sufficiency and meaningful productivity.
www.linkedin.com/in/tammyhannah
Origami Brain Injury Rehabilitation Center is a CARF accredited, non-profit organization resulting from a unique alliance between Peckham, Inc. and Michigan State University. Origami provides comprehensive rehabilitation for adolescents and adults with neurological dysfunction. Through their compassionate and innovative services, Origami creates opportunities and transforms lives. Origami was founded in April of 1997 and continues to expand their reach throughout the mid-Michigan area and beyond.
Available Resources
Origami provides residential, outpatient, and community based programming with a wide array of professional services. Service providers includes psychologists, physiatrists, psychiatrists, social workers, behavioral analysts, occupational therapists, physical therapists, speech-language pathologists, and recreational therapists. Specialty services include drivers rehabilitation, concussion care, cognitive retraining, vocational services, and more.
Origami's Needs
There are many individuals in our community who need mental health services; however, because of funding limitations they are unable to access care. 100% of our fundraising efforts are geared towards access to care. It's just not enough. We need the community to come together to find creative ways to break down barriers and ensure people who need help are able to receive it.
---
Outreach Center and City Mission
---
Peckham is a non profit vocational rehabilitation organization headquartered in Lansing. Peckham offers employment training programs that focus on helping people with disabilities and other barriers to employment secure the skills needed in today's competitive job market. We serve about 3,000 individuals a day, with facilities in Lansing, Battle Creek, Grand Rapids, Charlotte, and Flint. We also operate contact centers in Phoenix, Arizona and London, Kentucky. We offer paid job training programs in 5 social enterprises as well as job placement services in partnership with other community employers. We offer specialized programs for court involved youth and school aged youth with disabilities, as well as supported employment services for clients referred by CEI-CMH. We support unemployed and underemployed job seekers through fee-for-service and grant funded programs located at the Capital Area Michigan Works! Lansing Service Center. We are a certified gold-level Veteran-Friendly Employer by the Michigan Veterans Affairs Agency. Peckham also operates 2 subsidized apartment buildings in Lansing for people with eligible disabilities.
I'm Sarah George, and I've worked at Peckham for more than 20 years. In my current role as Director of Mission Initiatives I provide strategic thinking and clinical expertise in the research, design, implementation and evaluation of programs and services that promote skill development and upward mobility for Peckham clients. I lead special projects and new mission initiatives. I provide training and consultation for Peckham staff in achieving outcomes, and I lead Peckham's Mental Health First Aid training program.
Agency Resources
Peckham's primary resources are paid employment and training programs for people with disabilities in a supportive environment. We track client demographics by primary disability, and the largest group we serve are people with mental illness.
We have 2 Mental Health First Aid instructors on staff.
We have a Veteran Services Specialist on staff who coordinates initiatives at Peckham and collaborates with community agencies to support issues important to veterans and their families.
We have a Self Advocacy program that teaches people with disabilities to play an active role in advocating for disability rights. The members advocate at the local, state and federal level to address legislative issues that have an impact on people with disabilities.
Our Art from the Heart program advocates for artists with disabilities to have the opportunity to participate in the greater art community. We engage with the Lansing community to increase awareness of the creative potential of people with disabilities, and to provide our artists with opportunities to exhibit and sell their artwork.
Identified needs
Our clients have difficulty accessing substance use disorder services, especially when inpatient care is needed. Outpatient mental health counseling is difficult for some clients to access. Clarification on crisis service entry points is needed (where people go who have commercial insurance vs uninsured vs Medicaid). Mental health counseling for speakers of other languages is extremely limited in Lansing.
---
Sparrow Behavioral Health Services