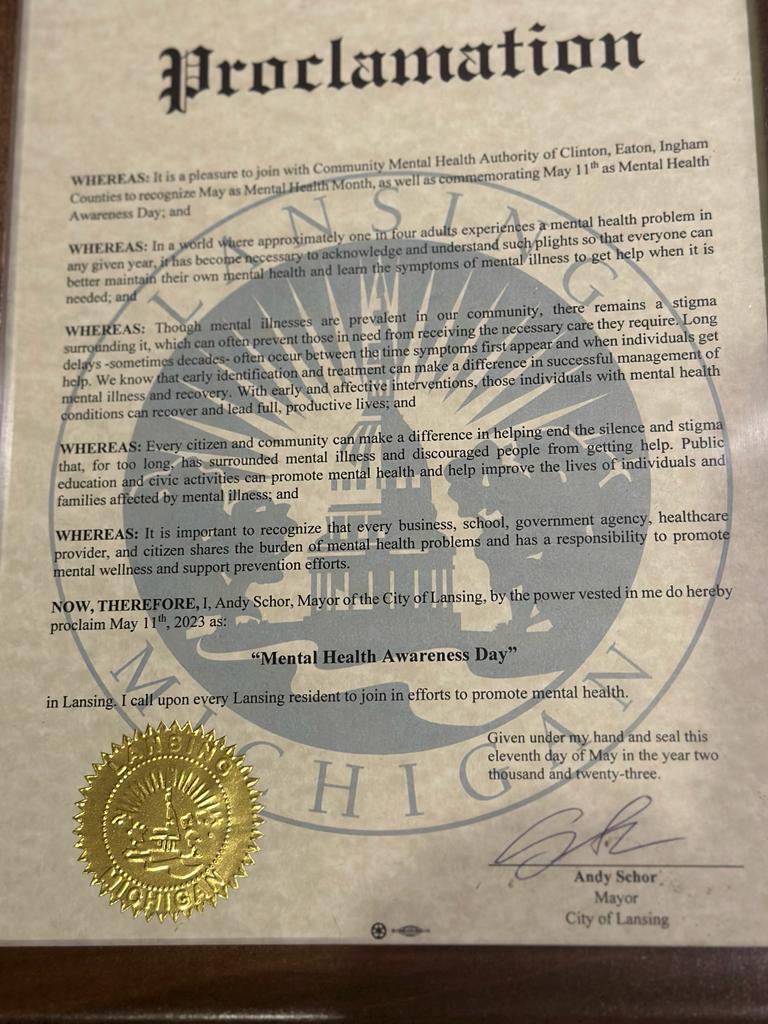 Title    City of Lansing Recognizes Mental Health Awareness Month
Date    Wed, May 10, 2023
Description    

Schor Proclaims May 11th Mental Health Awareness Day in Lansing
Lansing, Michigan – Mayor Andy Schor announced today the City of Lansing's participation in a nationwide effort to recognize May as Mental Health Awareness Month and proclaimed May 11th as Mental Health Awareness Day in the City of Lansing.
"Recognizing Mental Health Awareness Month is an important priority for the City of Lansing," said Mayor Schor. "We understand the critical role mental health plays in our community's overall well-being and are committed to raising awareness and promoting mental wellness. Everyone in the community can make a difference in helping end the silence and stigma that, for too long, has surrounded mental illness and discouraged people from getting help."
In 2020, Mayor Schor formed the Mayor's Mental Health Task Force to address mental health problems in the community and promote mental wellness. Dr. Farha Abbasi, Assistant Professor in the Department of Psychiatry at Michigan State University and leader of the task force, emphasized the importance of cities' involvement in local health, justice, and human services systems.
Sara Lurie, Chief Executive Officer of the Community Mental Health Authority of Clinton, Eaton, and Ingham Counties say the task force "provides an important opportunity to come together across multiple sectors to collaborate in raising awareness, prioritizing, and addressing needs in the community. It has helped CMHA-CEI in planning for a future Crisis Stabilization Center for the Capital Area."
During Mental Health Awareness Month, CMHA-CEI is offering a virtual Mental Health First Aid Training on May 16th at 9am. The course is available to anyone who wants to learn how to help someone experiencing a mental health problem or crisis. Interested individuals can register at https://MHFA-5-16-23.eventbrite.com.
The Michigan Crisis and Access Line is available statewide 24/7 via call or text to 988 to connect to crisis counselors. Anyone who feels overwhelmed or needs someone to talk to can contact the Substance Abuse and Mental Health Services Administration's National Helpline at 1-800-662-HELP, or visit www.FindSupport.gov. Information about local mental health resources, including an anonymous online mental health screening tool is available at www.ceicmh.org.
About CMHA-CEI: The Community Mental Health Authority of Clinton, Eaton, and Ingham Counties (CMHA-CEI) provides behavioral health services to individuals living in the tri-county area of Michigan. They offer a wide range of services, including crisis intervention, therapy, and case management. 24/7 Crisis Services are available by calling 517-346-8460.