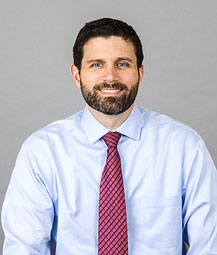 Department of Psychiatry
West Fee Hall
909 Wilson Road, Suite B107
East Lansing, MI 48824
United States
(517) 353-3070
Brian Smith, MD
Associate Professor
Clerkship Director for the Lansing campus of the College of Human Medicine and the College of Osteopathic Medicine
Teaches residents and medical students
Provides outpatient psychotherapy and medication management
Interests: Child and adolescent mood disorders, anxiety disorders, autism and ADHD, along with medical student and resident education
Dr. Smith graduated from Cornell University in 1994 with a BA in Biology, and graduated from Michigan State University College of Human Medicine with an MD in 1998.  Dr. Smith then completed a combined general and child/adolescent psychiatric residency at UNC Hospitals in Chapel Hill in 2003.  
He is board certified in both general and child/adolescent psychiatry. Dr. Smith has extensive clinical experience working with adolescent anxiety and mood disorders and with individuals with developmental disabilities and ADHD, in both university and community mental health settings. He has expertise in medical student education in psychiatry, including completion of the Lilly Teaching Fellowship program, chairing a national committee on membership for the Association of Directors of Medical Student Education in Psychiatry (ADMSEP), coordinating a psychopathology course for over 300 2nd year medical students at 3 campuses,  and as part of his role as Director of Medical Student Education in Psychiatry, he acts as lead clerkship director for over 500 students annually on the psychiatry core clinical rotation. Dr. Smith also writes test questions for the National Board of Medical Examiners.
Recent Scholarly Activity
Smith B.D. Cultural Competence Clinic: An Online, Interactive Simulation for Working Effectively with the Arab American Muslim Patient. Academic Psychiatriy 2011:35;312-316

Smith B.D. Adolescent Self-Injury: Evaluation, Referral, and Treatment. Consultant For Pediatricians 2011:10;190-195.
Summer 2011.  Association of Directors of Medical Student Education in Psychiatry (ADMSEP) Annual Meeting, Savannah, Georgia (Are Medical Students Prepared for the Medical Home?  How They Think About Psychiatric Comorbidity)
Spring 2011.  The Practice of Nonsuicidal Self-Injury in Adolescents – Parts I, II, and III (Podcasts posted at PediatricsConsultantLive, ConsultantLive, and Psychiatric Times)