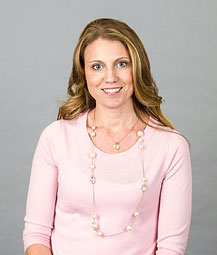 Department of Psychiatry
West Fee Hall
965 Wilson Road, Suite A233
East Lansing, MI 48824
United States
(517) 329-4250
Alyse Folino Ley, DO
Associate Professor
Associate Professor
Associate Chairperson of Education and Research
Dr. Alyse Folino Ley graduated from Michigan State University's College of Osteopathic Medicine in 2002. Following medical school, she completed a general psychiatry residency and child and adolescent psychiatry fellowship at Michigan State University in 2008. Dr. Ley is board certified in both general psychiatry and child and adolescent psychiatry by the American Board of Psychiatry and Neurology (ABPN) and the American Osteopathic Board of Neurology and Psychiatry (AOBNP). Dr. Ley is a fellow in the American College of Neuropsychiatrists (ACN).  
Dr. Folino Ley has expertise in working with adults, children and adolescents with trauma-related disorders, mood disorders, anxiety disorders, developmental disorders, ADHD, learning disorders, and psychotic disorders. Dr. Folino Ley serves as the Associate Chairperson of Education and Research, in the Michigan State University, Department of Psychiatry. She also provides subject matter expertise to the Averted School Violence project and other Center Targeted Violence Prevention initiatives. Dr. Ley participated in after action reviews of the Route 91 Harvest Festival shooting in Las Vegas (NV), the Marjory Stoneman High School in Parkland (FL) shooting, and the Paw Paw High School averted shooting. She is the co-director of the Adolescent Targeted Violence Prevention Project, a collaboration between the National Policing Foundation's Center for Targeted Violence Prevention and Michigan State University Department of Psychiatry.
In September 2022, Dr. Folino Ley was appointed by Governor Whitmer to serve on the Michigan to the School Safety and Mental Health Commission, to serve a 4-year term.  She is also serves on the Oakland County Prosecutor's Commission to Address Gun Violence and is a member of the Michigan Board of the National Alliance on Mental Illness.
Dr. Folino Ley is also involved in both medical and residency education as the Associate Chair of Education and former director of the four-year general psychiatry residency program at Michigan State University, as well as the two-year child and adolescent psychiatry fellowship. Dr. Folino Ley teaches medical students in the MSU College of Osteopathic Medicine and the MSU College Human Medicine. She is a co-coordinator for the MSUCOM Psychopathology course which is delivered to over 320 second-year medical students each fall. She was awarded the American Association of Colleges of Osteopathic Medicine (AACOM) Council of Osteopathic Student Government Presidents (COSGP) 2016 Outstanding Achievement in Osteopathic Medical Education Award for co-founding the Michigan State University College of Osteopathic Medicine Student Mental Health Committee (MSMH).  Dr. Folino Ley received the American Academy of Child and Adolescent Psychiatry (AACAP) 2019 Research Mentor Award for her work with child and adolescent psychiatry residents and most recently was given the Fall 2021 and 2022 Golden Apple Teaching Award-Honorable Mention by the MSUCOM Class of 2024 and 2025.